Publications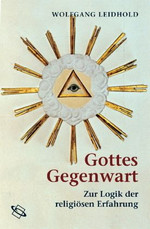 Darmstadt : Wiss. Buchges., 2008. - 191 S. ; ISBN 978-3-534-21046-6.
"Can we understand faith ratioanally? Do the notions of God of the world religions correspond to our experiences? How are we to conceive the truth claims of religions? Wolfgang Leidhold's work shows clearly and comprehensively which kinds of religious experience exist and how they contribute to the formation of world views. When doing so, he takes into consideration all big world religions and deliberately adopts a factual approach. This allows for a concise analysis of the foundations of the religions that will endure."
Here you can find the review published in "Theologie und Philosophie"
originally published in: ThPh 84 (2009), S. 286-289
Here you can find the review published in "Theologische Revue"
originally published in Theologische Revue 105 (2009), S. 312-313
Francis Hutcheson: An Inquiry into the Original of Our Ideas of Beauty and Virtue : in two treatises / Francis Hutcheson. Ed. and introd. by Wolfgang Leidhold.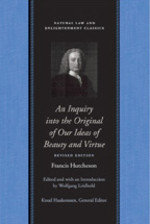 2. rev. ed. (2004), 275p. Indianapolis, In. : Liberty Fund, 2008.
"Francis Hutcheson's first book, An Inquiry into the Original of Our Ideas of Beauty and Virtue, was published in 1725, when its author was only thirty-one, and went through four editions during his lifetime. This seminal text of the Scottish Enlightenment is now available for the first time in a variorum edition based on the 1726 edition.
The Inquiry was written as a critical response to the work of Bernard Mandeville and as a defense of the ideas of Anthony Ashley Cooper, Lord Shaftesbury. It consists of two treatises exploring our aesthetic and our moral abilities.
Francis Hutcheson was a crucial link between the continental European natural law tradition and the emerging Scottish Enlightenment. Hence, he is a pivotal figure in the Natural Law and Enlightenment Classics series. A contemporary of Lord Kames and George Turnbull, an acquaintance of David Hume, and the teacher of Adam Smith, Hutcheson was arguably the leading figure in making Scotland distinctive within the general European Enlightenment."
Leidhold, Wolfgang: Politische Philsosphie.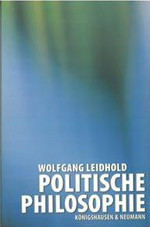 2. verb. Aufl. (2002). Würzburg: Königshausen & Neumann, 2003. - 211 S. ; ISBN 3-8260-2755-8.
"Such an original, exceptional book, essential to all areas of Political Science as well as an exciting read, has not been published in a very, very long time... According to Leidhold, the political is an immediate object of philosophy. He calls his political philosophy "a way of thinking that practices philosophy from a political perspective". Leidhold's logic of time contains the bold attempt to consider time - instead of being - the most fundamental concept... Clearly and subtly at the same time, Leidhold manages to present the existential, cognitive and political implications." (Prof. Claus-E. Bärsch, Duisburg, in: PSV 2003, Heft 2)
Here you find the full text of this review as published in "Politische Vierteljahresschrift (PVS)"
first published in: PVS 2003, Nr. 2, S. 244-246
Here you find the review published in "Der Staat"
first published in: Staat 2005, Vol. 44, Nr. 1/4, S. 324-326
If you are interested in bying the book, contact us: Leidhold-Sekretariat
uni-koeln.de.
Kamp, Andreas: Vom Paläolithikum zur Postmoderne - Die Genese unseres Epochen-Systems.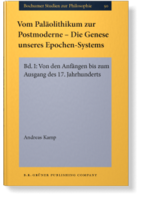 Bd. 1: Von den Anfängen bis zum Ausgang des 17. Jahrhunderts. Amsterdam/Philadelphia: J. Benjamins Publishing Company, 2010. IX, 309 S. ISBN 978 90 6032 383 0. (Bochumer Studien zur Philosophie 50).
This is the first part of a two-volume study of the genesis of our modern-day system of epochs, a system which claims to structure the chronology of the entire history of mankind.
The volume sets out by sketching the intellectual premises. It leads from the rudimentary Paleolithic division of time via the oldest attempts at structuring to have been documented in written form, through the Sumerian and Egyptian "King Lists", to Greek and Roman authors, to Petrarch, Bruni, and Vasari and finally Cellarius, who in the late 17th century introduced the distinction between the three epochs of "Antiquity, Middle Ages and the Modern Era" as the basic chronological principle of organizing the history of the world. This is followed by a closer look at the three classical concepts of "Epoché" as defined by Pyrrhon, Polybios and Ptolemaios, respectively, as well as their surfacing and reception in Latin Europe. Not until the second half of the 16th century, which is an astonishingly late point in time, can the transformation of "Epoché" into a fundamental category of historiographic structuring be detected. Finally, by studying numerous writers as well as the contemporary lexicography, we will outline the process of divulgation that took place both in Latin as well as in the relevant European "vernaculars" (English, Franch, German, Spanish, Portuguese, Italian). In the process, the late 17th century again proves to be a kind of divide.
As a consequence, volume one ends here; a second volume (forthc.) will analyse the further development to the present day.
Kamp, Andreas: Vom Paläolithikum zur Postmoderne - Die Genese unsers Epochensystems. Bd. II: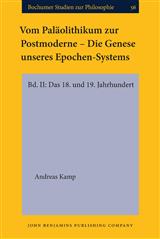 Das 18. und 19. Jahrhundert. Amsterdam/Philadelphia: J. Benjamins Publishing Company, 2015. IX, 326 S. ISBN 978 90 2721 466 9. (Bochumer Studien zur Philosophie 56).