News
Sekretariat
Änderung in Sekretariat
Das Sekretariat ist von Dienstag bis Mittwoch von 10.00-15.00 Uhr besetzt.
Johannes Clessienne
0221 470 -4522
leidhold-sekretariat
uni-koeln.de oder j.clessienne
uni-koeln.de
Festschrift zu Ehren von Prof. Dr. Wolfgang Leidhold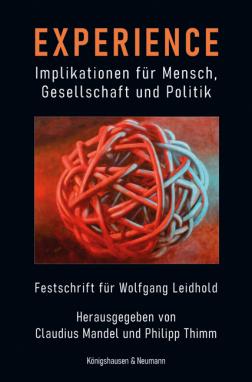 Auf der Basis seines herausragenden Werdegangs und seines 70. Geburtstags verfassten 32 Beitragende aus dem In- und Ausland eine Festschrift zu seinen Ehren. Der Text fokussiert sich einerseits auf die interdisziplinären Perspektiven der Leidholdschen Forschung und andererseits auf die Bildungsvita des WiSo-Professors.
Die Thematik der Experience ist ein omnipräsenter Begriff in der Wissenschaft und Gesellschaft, die lange Zeit strukturell unerforscht blieb. In seinen umfangreichen Arbeiten zum Thema History of Experience ist es dem Politikwissenschaftler Prof. Dr. Leidhold gelungen diese Forschungslücke zu schließen. Vor diesem Hintergrund verfassten Claudius Mandel und Philipp Thimm (WiSo-Alumni) mit der Unterstützung von zahlreichen Autor:innenbeiträgen eine Festschrift zu seinen Ehren.
Die Autor:innenbeiträge fokussieren sich auf die Kernthemen der Erfahrung: Mensch, Gesellschaft und Politik. Fundiert werden diese Beiträge durch zwei Gespräche mit dem ILIAS- Erfinder. Darin gibt Prof. Dr. Leidhold persönliche Einblicke in sein vielfältiges Leben, frei nach seinem Lebensmotto: "Folge deinem Eigensinn und spring in die Wogen, und dann sieh zu, wohin dich deine Woge trägt".
Experience – Implikationen für Mensch, Gesellschaft und Politik. Festschrift für Wolfgang Leidhold.
Autor/en: Mandel, Claudius / Thimm, Philipp (Hrsg.)
ISBN: 978-3-8260-7122-5

Personal Website of Prof. Wolfgang Leidhold
Please visit the personal website of Prof. Leidhold (wolfgang-leidhold.com).
Team reinforcement as of October 2018
We are pleased that Dr. Johannes Clessienne will join our team as a research assistant. Contact details and office hours can be found on our team page, the courses under 'Teaching / Studies'.
Just Published!
Wolfgang Leidhold: Eric Voegelin's New Perspectives on History and Experience: A Paradigm Shift
Wolfgang Leidhold: Towards a History of Experience
For PDF klick here:
Wolfgang Leidhold: History and Experience, in: S. Fink, R. Rollinger, Hg., Oswald Spenglers Kulturmorphologie, Wiesbaden, 2018, p. 489-521.
Johannes Clessienne: Zynismus und Science Fiction - Vom Elend liberaler Klimapolitik, in: Telepolis vom 21. Mai 2020, www.heise.de.
Johannes Clessienne: Lauert im Web eine Gefahr für die Demokratie?, in: Telepolis vom 22. April 2019, www.heise.de.